Across 17 global datacenters, HostJane VPS offers lightning-fast, managed SSD KVM VPS with the power and reliability of a dedicated server.
Core Features
Name
Description
24/7 human support
HostJane's professional admins can assist you night and day. Our customer service team is passionate about giving accurate, support that resolves your issues first time.
24-hour backups
Your data is safe and securely backed up on a 24-hour cycle for a small fee. We don't charge for back up storage. We can restore your server to 2 earlier versions.
Free SSL

JaneVPS gives you a free SSL certificate that self-renews every 3 to 6 months.

With root access or through cPanel or Plesk, you can install any commercial SSL.

Managed options

Choose a self-managed linux server or managed environment with control panel.

For managed options, JaneVPS secures, monitors, and keeps your server stable.

We deal with all software updates, stack issues, malware removal, and security patches.

Latest technology
JaneVPS supports the latest versions of the best programming languages, including PHP, MySQL, Perl, and Python, to name a few.
Scalable

When your site's space and bandwidth needs increasing, JaneVPS is nimble and flexible enough to instantly scale up with ease.

Pay only for what you need at the time.

Root access

Maintain total control over your server's configuration with root password access.

JaneVPS has no restrictions including: unlimited domains, sub-domains, emails, MySQL databases, FTP accounts, metrics.

Extreme Speed
JaneVPS runs lightning-fast Intel® Skylake servers that use Solid-State-Drive storage which have no moving parts inside.
Dedicated IP

The IPv4 associated with your JaneVPS is stable and mapped permanently to the server.

You can add 1 additional IPv4 to each VPS you purchase.

Private eyes

If what you're building or running needs to be behind closed doors, JaneVPS' firewall can give you 100% privacy.

Only you and those white-listed devices will be able to see your server. Contact support to set up a firewall.
Fully-managed hosting
All HostJane servers are fully-managed for you by a team of experts. We back-up and secure your VPS for you.
If you want to be free of the technical responsibility required to keep a production linux server, up and stable throughout the year, HostJane VPS is for you.
We're often asked what does "fully managed" hosting mean in comparison to self-managed hosting? As an analogy, think of fully-managed like driving a car without needing to know how the carburetor works.
With HostJane, we are your website's mechanics and pilots, letting you get on with your business.
Most importantly, "fully managed" means that we will help you resolve glitches, core updates, patches, and all technical problems you encounter.
Email handling policy
JaneVPS allows the freedom to handle DNS records essential for mail delivery and spam protection either locally on the server, at your domain registrar, or with a third-party of your choice.
You can create unlimited email addresses.
e.g. When JaneVPS runs cPanel/WHM app, the server is powerful enough to let you configure MX records, or POP3 and IMAP email locally on the server, or to let your domain registrar's DNS handle that.
Mailing needs for our non-cPanel VPS instances, e.g. running Joomla, WordPress, or Drupal can also be configured locally on the server.
Note: HostJane has a zero tolerance on spam policy.
Bandwidth overages
You will receive an email informing you to upgrade your server and offering options.
If not practical and your server continues above the bandwidth threshold to prevent any bandwidth overage charges, the server will be stopped.
Temporary SSL warning
Open a support case and tell us to install your free SSL certificate.
You'll first need to point your domain to your server's A-record which can take up to 72 hours to propagate (though is usually much faster).
DNS takes that long to propagate, which means updating Internet Service Provider (ISP) database nodes around the world. This is the case with any host, regardless of who they are. Unfortunately, while jane is super-fast, she can't speed up the internet just for you.
Linux distributions
With the exception of cPanel/WHM VPS which runs on CentOS, all HostJane VPS servers use the latest Ubuntu version.
Special configurations
We can provide cPanel/WHM on Centos 6 if needed, and Webmin on CentOS 7 and CentOS 6 if you contact us to make a special order at the same prices.
Content policy
We don't police our customers files, so it's up to you to ensure you are complying with our AUP.
As a rule of thumb, as long as whatever is on your website can be defined as "legal" in the United States, you won't have any problems at this host.
Automatic backups
HostJane can nightly backups of your entire server files and databases for a small fee.
We generally always have at least 2 past backups of the entire VPS servers in our system.
HostJane begins overwriting past backups, after 72 hours of storage.
To request a restoration from a past backup, please contact us. There is a $15 data restore admin fee.
Note the restoration process can take up to 60 minutes and during that time your server may be unavailable.
Private builds
Do you need to build your website privately before going live?
There are 2 methods we recommend:
Wait to change DNS
The first method is to wait to point your domain to the server and complete the site build first.
You can access your server by pointing your browser to its IP address.
For example, by typing: HTTPS://[YOUR_SERVER_IP] in Firefox or Chrome.
Search engines won't pick up your website content while it's using an IP address.
It's safe to ignore the temporary SSL browser warning during this time, which happens because it's using a self-signed SSL certificate.
When you're ready to go live, point your domain and we can install your free SSL certificate to remove the browser warning.
2) Private eyes
The second method to run a private server is to request HostJane to set up a firewall on your server so only you (and the people you want to) can see your server.
DDoS protection
During the most common forms of Distributed Denial of Service (DDoS) attack, JaneVPS has an anti-DDoS system that analyzes, filters, and blocks malicious events.
This includes protection against:
User Datagram Protocol (UDP) packets: Where server ports are targeted by attackers.
Syn TCP and Ping attacks: Designed to overwhelm server resources forcing you offline.
Other amplification-based attacks like Network Time Protocol (NTP) and Domain Name Server (DNS) response traffic attacks
*Customers should be aware that no system however protected is DDoS proof. HostJane VPS network will protect you against the most common volume-based and protocol floods.
Solid State Drives
HDDs contain lots of tiny, moving parts inside— like spinning plates, magnetic heads, and spindles—which can easily screw up causing data loss.
Unlike other hosts, HostJane only uses Solid State Drives (called SSDs) which make the read/write speed of your data and apps faster and more reliable.
SSDs are better because they have no moving parts inside to slow them down, giving our servers 3 major advantages:
Read/write speed: HostJane's SSDs compute faster which improves website loading times, makes apps faster, and increases productivity.
Smarter: Made from silicon memory chips, HostJane's SSDs have less power consumption than HDDs, which we pass on as cost savings to you.
Tougher: With no motorized spinning parts, HostJane's SSDs generate less heat making them less likely to burn out or fail, and longer lasting.
You can cancel your server at any time from your Hosting Portal account.
Refunds
View HostJane's refund policy. Due to the nature of server provisioning, we cannot provide prorated refunds unless the server is materially damaged.
Cancellation
Navigate to Dashboard
Find the server you wish to destroy in the Services list.

2. Select Manage under Options
Select Cancel Options at the bottom of the Information tab.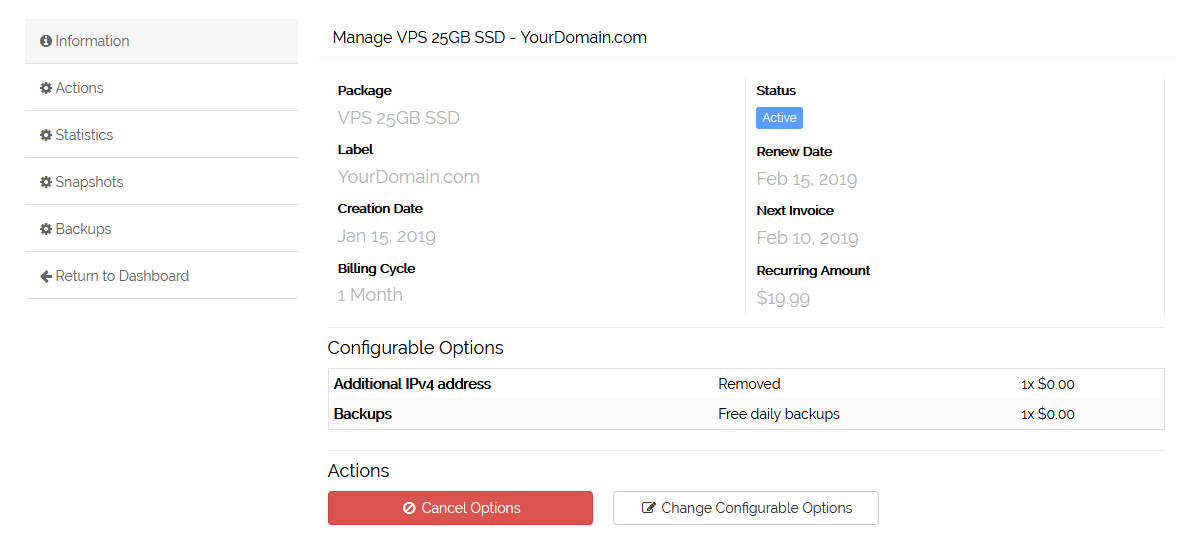 3. Select Cancellation Type
You can choose to cancel immediately or at the end of the current monthly term.
You will need to confirm your Hosting Portal account password to proceed with termination.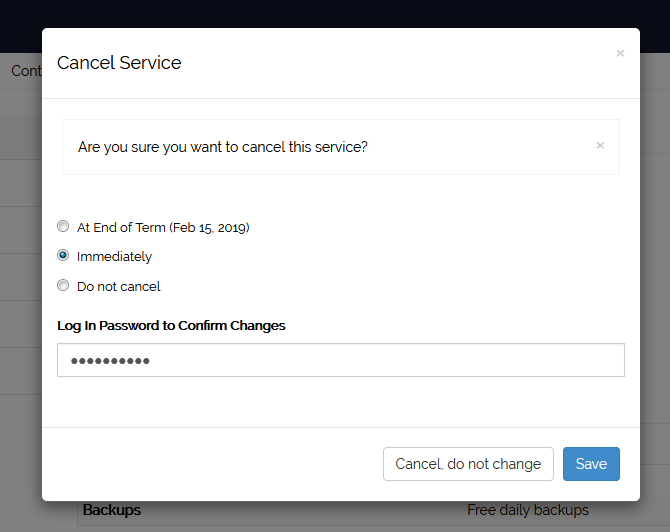 Danger Zone
Cancellation is immediate and not reversible. All data is destroyed.